Welcome back! Today I am featuring a great book that I found through NetGalley. This book was one that I loved because it was so unlike anything else I'd ever read. I also enjoyed that it was written by a local author and took place in Ohio. (If you've been following for a while then you have probably heard me whine about how good books are so rarely set here. Mindy Arnett will be continuing this series with The Nightmare Dilemma due out on March 4th so you have plenty of time to get in on this amazing series!
Sixteen-year-old Dusty Everhart breaks into houses late at night, but not because she's a criminal. No, she's a Nightmare.

Literally.

Being the only Nightmare at Arkwell Academy, a boarding school for magickind, and living in the shadow of her mother's infamy, is hard enough. But when Dusty sneaks into Eli Booker's house, things get a whole lot more complicated. He's hot, which means sitting on his chest and invading his dreams couldn't get much more embarrassing. But it does. Eli is dreaming of a murder.

Then Eli's dream comes true.

Now Dusty has to follow the clues—both within Eli's dreams and out of them—to stop the killer before more people turn up dead. And before the killer learns what she's up to and marks her as the next target.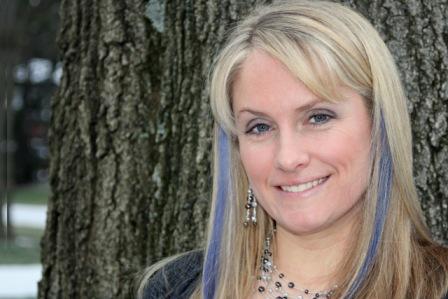 Mindee Arnett lives on a horse farm in Ohio with her husband, two kids, a couple of dogs, and an inappropriate number of cats. She's addicted to jumping horses and telling tales of magic, the macabre, and outer space. She has far more dreams than nightmares. She can be found on her
website
,
Facebook
and
Twitter
.
Interview with Mindee Arnett:
M- Who is your favorite character from The Nightmare Affair and why?
Mindee-

My favorite character in any book I'm writing is always the main character. It's kind of a prerequisite for me to want to spend that kind of time in the character's head. But aside from Dusty, my favorite character is probably Selene. She's feisty and tough and loyal--and she gets to do some really awesome things in big two. I'm very excited to see what readers think. We get to learn a lot more about Selene and she really shines.
M- Why make Dusty a Nightmare? It's a very unique idea and I love it!
Mindee- The whole thing hinges on the idea of a nightmare, and it was the genesis for the story. I draw (very loosely) on nightmare mythology, the idea of being "hag-ridden." When you think about it, it's a pretty crappy way of life, but that also lends itself to a lot of awkward, funny situations. So naturally, Dusty is prone to awkwardness too. She just couldn't not be a nightmare.
M- Favorite thing about living in Ohio?
Mindee- There are so many things I love about Ohio. But maybe the very best one is the four seasons. I love the constant change. Even the winter, although I definitely complain about the snow and ice. And I think our slogan "the heart of it all" is pretty much true. Ohio is located within easy distance of so many cool things. It makes for constant chances at adventure.
Thanks so very much to Mindee Arnett for taking the time to answer my questions and for participating in BIR 2013!
I am giving away one paperback copy of The Nightmare Affair from The Book Depository. You must be 13 years of age or older to enter and you must be able to receive books from the Book Depository.
a Rafflecopter giveaway