I recently took the time to read Artemis Fowl because my eldest son loved it. It was definitely an interesting book. I think I'll have to find time to read the rest of the series. Here's the cover and the Goodreads blurb: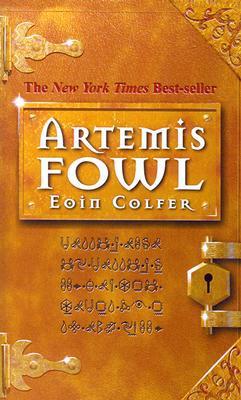 Twelve-year-old Artemis Fowl is a millionaire, a genius—and, above all, a criminal mastermind. But even Artemis doesn't know what he's taken on when he kidnaps a fairy, Captain Holly Short of the LEPrecon Unit. These aren't the fairies of bedtime stories—they're dangerous! Full of unexpected twists and turns, Artemis Fowl is a riveting, magical adventure.
Artemis is a creepy little child criminal. He's a scary little genius. I found the juxtaposition of the modern world and the fairy world interesting. This is one of the few times that I have seen an author talk about the fey as keeping up with the advancement of humanity or even surpassing them in their technology. Artemis Fowl is a kid that any child would love to be. He's smart and interesting. He can function as well as any adult in the world... or better. I highly suggest this book for kids who love to read and even kids who hate to read. This is a book that will appeal to lots of readers. I also think it could be a great book for families to read together.
Eoin Colfer can be found on his
website
, on
Twitter
and on
Goodreads
. You can also find the world of Artemis Fowl
here
. I give Artemis Fowl 3 Fairies for a great book for young and old readers alike.