I recently hosted A. E. Via as part of the Countdown to Rainbow Con event. I was so excited to hear from her about a review opportunity for one of her new books! I love romance in all of its forms so I read a wide variety in the romance genre. I will warn you that this book is for ADULTS and has gay themes and characters, so if that is a problem for you, this book is not for you. That being said, here's the cover and the Goodreads blurb: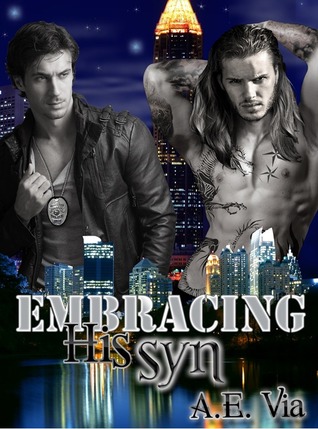 (This story contains characters from previously published novel 'Nothing Special' but Embracing His Syn is a stand-alone novel.)

Sergeant Corbin 'Syn' Sydney transferred from the Philadelphia Police Department as soon as he'd heard there was going to be an opening on Lieutenant Cashel Godfrey and Lieutenant Leonidis Day's Atlanta Narcotics Task Force. Syn's primary goal in his life has been to be a great cop. There has been no time for relationships, romance, or especially love.

Syn was dedicated to his new force, focused and ready to back up God and Day as their third in command, but what he wasn't ready for was the feelings he got from seeing the love they had for each other.

Syn's all prepared to accept his lonely fate until he walks into a small pub and meets long-haired,
tattooed, bartender, Furious Barkley. Before he can even understand why, Syn's feeling things he barely recognizes: passion, yearning, cravings; and if the dark, lustful gazes are anything to go by, Furious might be feeling the same things for him.

Just one thing needs to happen before Furi and Syn can give each other what's been missing from their lives for so long...
Syn needs to allow happiness into his world and Furi needs to learn to open his heart and trust again.

God, Day, Ronowski, and Johnson are still as entertaining as ever...

You'll swoon over God's massive take-charge attitude...

You'll laugh hysterically at Day's never-ending wit...

You'll fall in love with Furious' mysterious, sexy demeanor...

and...

You'll embrace Syn...


Disclaimer: This book DOES NOT contain scenes of polygamous sexual pairings.
My Review
I really enjoyed this story. I felt that it had room for improvement but was good overall. I enjoyed the emotional ride of the characters' journey to love. It was interesting to see them each come to terms with the idea of being able to let someone in. The mystery plot was interesting but felt rushed and not quite finished. I loved getting to see all the cameos by the characters from the other book in this series. I liked that this was a stand alone that I could read before the other book. I am going to have to go back and read Nothing Special because I found the characters so funny and entertaining. I give Embracing His Syn 3 Fairies for a fun romance with lots of fun and interesting characters.
About the Author
A.E. Via is a best-selling author in the beautiful gay erotic genre. She's been reading gay romance exclusively for ten years before she decided to submit one of her own stories for publication. Her writing embodies everything from spicy to scandalous. Her novels often include intriguing edges and twists that take readers to new, thought-provoking depths.
When she's not clicking away at her laptop, A.E. devotes herself to her family—a husband and four children, her two pets, a Maltese dog and her white Siamese cat, ELynn, named after the late, great gay romance author E. Lynn Harris.
Although she's still a fairly new author, she has plenty more to come. So sit back and grab a cool drink, because the male on male action is just heating up! Go to A.E. Via's official website http://authoraevia.com for more detailed information on how to contact her, follow her, or get a sneak peak on upcoming work, free reads, and where she'll appear next. You can also follow her on
Twitter
and Like her
Facebook Page
.