I was recently offered the chance to review Grunge Gods and Graveyards by Kimberly G. Giarratano. I jumped at the chance to read it. I was a teen in the late 90's so that time can bring back all the good memories and even the things I wish I could forget. But mainly, the 90's was a time of amazing things like grunge music, super comfy flannel shirts and some of the best issues of my favorite comics ever. Check out the cover and the blurb!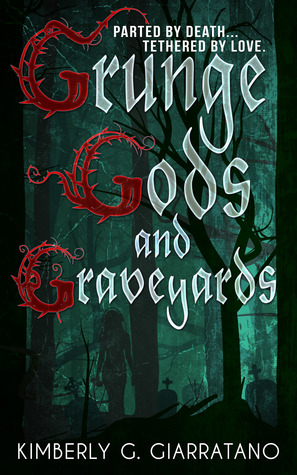 Parted by death. Tethered by love.

Lainey Bloom's high school senior year is a complete disaster. The popular clique, led by mean girl Wynter Woods, bullies her constantly. The principal threatens not to let her graduate with the class of 1997 unless she completes a major research project. And everyone blames her for the death of Wynter's boyfriend, Danny Obregon.

Danny, a gorgeous musician, stole Lainey's heart when he stole a kiss at a concert. But a week later, he was run down on a dangerous stretch of road. When he dies in her arms, she fears she'll never know if he really would have broken up with Wynter to be with her.

Then his ghost shows up, begging her to solve his murder. Horrified by the dismal fate that awaits him if he never crosses over, Lainey seeks the dark truth amidst small town secrets, family strife, and divided loyalties. But every step she takes toward discovering what really happened the night Danny died pulls her further away from the beautiful boy she can never touch again.
This book is wonderfully written. I loved the way that the characters really grabbed me and took me along for the ride with them. I especially enjoyed Lainey as the main character. She is just so enjoyable to read. I could really identify with her. I was one of the girls in high school who was never the coolest or the most popular. Lainey really knows that feeling. I loved the ghostly story of poor Danny and all of the work put into building this complex story. This book brought back some great memories and it reminded me of some of my favorite books growing up. It has a ghost story, a love story, and a mystery. I give Grunge Gods and Graveyards 4 Fairies for an amazing book that I can't wait to reread!