I was so excited to get a copy of In The Fire through NetGalley in exchange for my honest review. I really enjoyed the first story in this series so I dove right into In The Fire. Here's the cover and Goodreads blurb: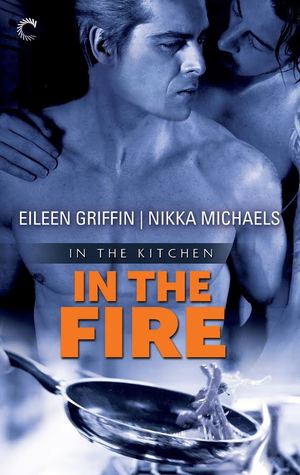 Because the way to a man's heart…

Eight years ago, the world was their oyster. Until, that is, competing chefs Ethan Martin and James Lassiter's hot and heavy relationship fizzled after Jamie left for an internship in Paris. Even though Jamie's career has taken off since his return to the States, with his own television show and a lot of fame, his feelings for Ethan have never quite gone away.

Ethan's culinary career has developed more slowly, but he's almost saved enough to buy the restaurant where he works and re-open it as his dream spot, Bistro 30. If only he could get the sexy chef who loved him and left him out of his mind.

But when someone starts sabotaging the restaurant and a fire threatens to take away everything Ethan holds dear, his only option is to rely on Jamie for help. Back in close quarters, the two men will have to find a way to work through their past if they hope to save the restaurant and their future.

See how Ethan and Jamie's romance began in In the Raw.
In this book I felt like I do often when reading romance- like I want to strangle the characters. They are both acting so stubborn and stupid that you just want to thrash them. But in the end, it makes it so rewarding when you get to the end of the story and the characters FINALLY get it all together. I was really mad that Jamie and Ethan let their relationship fall apart like they did. But I loved that they let each other go and they then came back to one another- as if they were meant to be. It reminded me that our happily ever afters aren't worth as much if we don't have to work for them. The more we go through in our relationships, the more meaning that they have. I love the way that Michaels and Griffin create their characters. Their realistic story telling style is wonderful as well. I highly recommend their works.
You can find author Nikka Michaels on her
website
and on
Twitter
. Author Eileen Griffin can be found on her
blog
, on
Twitter
, and
Facebook
. I gave In The Raw 4 Fairies for a wonderful story of a love that was meant to be.