I received a copy of Ghost House by Alexandra Adornetto in exchange for my honest review. I love a good ghost story so I had to give it a read. Here is the cover and the Goodreads blurb: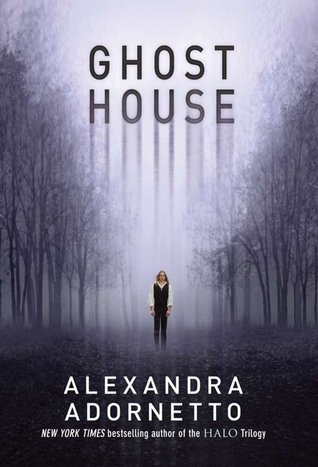 From the New York Times bestselling author of Halo comes the start of a beautiful and powerful new series.

After the loss of her mother, Chloe Kennedy starts seeing the ghosts that haunted her as a young girl again. Spending time at her grandmother's country estate in the south of England is her chance to get away from her grief and the spirits that haunt her. Until she meets a mysterious stranger…

Alexander Reade is 157 years dead, with secrets darker than the lake surrounding Grange Hall and a lifelike presence that draws Chloe more strongly than any ghost before. But the bond between them awakens the vengeful spirit of Alexander's past love, Isobel. And she will stop at nothing to destroy anyone who threatens to take him from her.

To stop Isobel, Chloe must push her developing abilities to their most dangerous limits, even if it means losing Alex forever… and giving the hungry dead a chance to claim her for their own.
I found this book beyond interesting. I enjoyed the beautifully described setting. The idea of spotting a ghost wandering out of the mist in the lush wet moors... wow. I enjoyed the Character of Chloe who has so much going "wrong" in her life. She feels completely out of control of her life. She's lost someone important to her and been taken from her home. I enjoyed that Alexander Reade is not the typical perfect guy in a romance. He made some mistakes in his life but he has been paying for them for over 157 years. I found this story to be interesting and it kept me reading. I loved this awesome take on a ghost story and a romance. The characters were also lovely.
You can click here to add Ghost House to your Goodreads
. You can find author Alexandra Adornetto on
Facebook
and
Twitter
. I give Ghost House 4 Fairies for a lovely and innovative take on the ghost story.