I started ready A Study in Silks over a year ago... and then my life went to Hell in a handbasket. I finally was able to finish the book in the last week and even tore through the rest of the series. It felt amazing to have accomplished it! To celebrate, I am bringing back my favorite feature of all time: Steampunk Saturdays!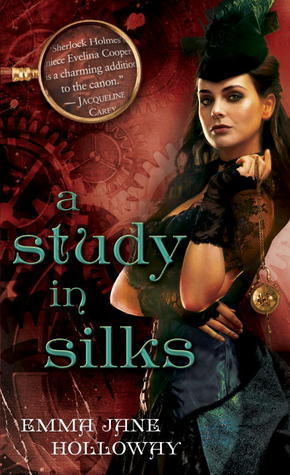 London, April 4, 1888 ~ Evelina Cooper, niece of Sherlock Holmes, is ready for her first London Season - except for a murderer, missing automatons, a sorcerer, and a talking mouse. In a Victorian era ruled by a ruthless steam baron council, mechanical power is the real monarch, and sorcery the demon enemy of the empire. Evelina has secretly mastered a coveted weapon - magic that can run machines. Should she trust the handsome, clever rake who speeds her breath, or the dashing trick rider who would dare anything she would ask?
I loved this book. I really did. Nick is every girl's dream of a hero. He is the boy that Evelina has always known and now he is the man who refuses to give up on her. He will give anything to keep her safe. I really enjoyed all of the Sherlock references because it gave me something to discuss and share with my husband who recently read ALL of the works about Sherlock Holmes. He and I could laugh together about Mycroft and his ridiculous club and everything. It was great. I hated Lord Bancroft and the steam barons. What has to happen to a person to make them so ...evil? Pragmatic? Selfish? I don't know how to best describe them but to say that they suck. Evelina is a reluctant magic user as well as a reluctant detective. I love that she sort of falls into her roles. Mouse and Bird are great too. I highly suggest this one if you love steampunk or are even a Sherlock fan who is unsure if they like steampunk. The world of magic and makers and steam barons will pull you in and take you on a wild ride through an alternative Victorian London.
You can click here to add A Study in Silks to your Goodreads
. You can find author Emma Jane Holloway on her
website
, on
Twitter
, on
Facebook
and on
Pinterest
. I give A Study in Silks 4 Fairies for a lovely story that took me on a wild ride through a world of steam and magic!