I recently received a copy of Burnt Toast B&B from Riptide Publishing through NetGalley in exchange for my honest review. It is the fifth book in the Bluewater Bay series and I am just loving this series. Here is the cover and the Goodreads blurb: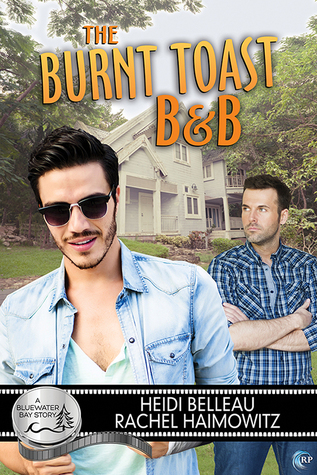 After breaking his arm on set, Wolf's Landing stuntman Ginsberg Sloan finds himself temporarily out of work. Luckily, Bluewater Bay's worst B&B has cheap long-term rates, and Ginsberg's not too proud to take advantage of them.

Derrick Richards, a grizzled laid-off logger, inherited the B&B after his parents' untimely deaths. Making beds and cooking sunny-side-up eggs is hardly Derrick's idea of a man's way to make a living, but just as he's decided to shut the place down, Ginsberg shows up on his doorstep, pitiful and soaking wet, and Derrick can hardly send him packing.

Not outright, at least.

The plan? Carry on the B&B's tradition of terrible customer service and even worse food until the pampered city-boy leaves voluntarily. What Derrick doesn't count on, though, is that the lousier he gets at hosting, the more he convinces bored, busybody Ginsberg to try to get the B&B back on track. And he definitely doesn't count on the growing attraction between them, or how much more he learns from Ginsberg than just how to put out kitchen fires.
I loved this book! It took a realistic and honest look at love, being true to yourself and what it means to "be a man". I thought that Ginsberg was awesome! What a great character! I loved how secure he was in himself. He was not born biologically male but he was more secure in what it meant to be a man than Derrick. Poor Derrick was just so insecure and unsure and it just left him lonely and angry. Ginsberg was the perfect fit for Derrick. Ginsberg just brings a light and life back to Derrick. I love how Derrick just takes in the differences in Ginsberg's body and just loves him because of them. It was interesting to me that Derrick saw the differences but did not see Ginsberg as less. There is some pain and some emotional heavy lifting in this story but there is also a lot of love, light and happiness. I highly recommend this one.
Click here to find the Bluewater Bay Series on Goodreads
. You can find Heidi Belleau on
her blog
, on
Facebook
and on
Twitter
. Author Rachel Haimowitz can be found on her
website
,
Twitter
, Facebook, and on her
blog
. I give Burnt Toast B&B 4 Fairies for a sweet romance with lots of heart.