Today for steampunk Saturday, I have a review of a full little book called Steampunk Your Wardrobe. This book has some easy projects to make everyday wardrobe items steampunk themed. Here's the cover and the Goodreads blurb: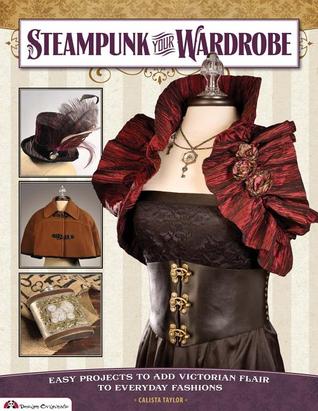 Steampunk your Wardrobe offers do it yourself-ers and crafters an easy and comprehensive, step-by-step guide to capturing a steampunk aesthetic in their fashions. Start with simple, easy-to-make projects, such as embellishing clothing you may already have, and proceed to more complicated alterations. Included are projects for steampunk jewelry, accessories, and clothing.
I liked the basic and simple nature of the pieces. I also thought that the book served as excellent inspiration on how to take thrift store or sale rack finds and turn them into steampunk pieces without a ton of cost. I think that the real value in this book is not being able to make exact replicas of the items in it but to be able to translate the ideas to whatever you may have to put together an interesting steampunk outfit. With the activities in the book, you could build a steampunk outfit for a lady in completion. I think though that some of the ideas and techniques can be used to put together male outfits as well. Over all I give this book 3 Fairies for a good resource for beginners to the steampunk world. The directions are clear and easy to follow and mad sewing skills are not required.