This week for Steampunk Saturday, I have a review of the third and final book in the Aether Chronicles series. Check out the cover of Fragile Destiny.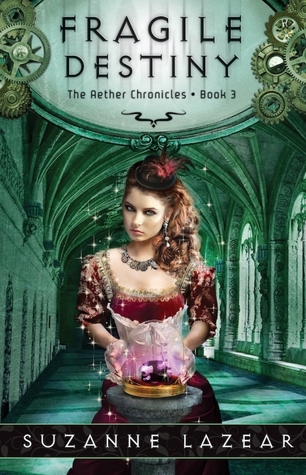 Noli and her true love V fear the worst if the Staff of Eris—a potent Otherworld relic—falls into the wrong hands. Broken into pieces and hidden in the mortal realm long ago, the staff bestows vast powers on whoever possesses it. Ciarán, the dark king, is trying to rebuild the staff, intending to use it to install a new queen.

In a desperate effort to keep the Otherworld from falling into darkness, Noli and V plot the daring theft of a jewel Ciarán needs to complete the staff. But Ciarán is not so easily defeated. Through his devious machinations, he has set a plan in motion for a final showdown that will decide who rules the Otherworld once and for all.
This book is the lovely fairy tale ending that Noli and V need. But I lost the fact that Noli can save herself and V, even if she doesn't mean to, but she doesn't need V to be her night in shining armor. James is a sweet and study advisor to Noli and V as they move forward together. I love all of the imagery in this story as we see the palaces of the Otherworld and all of the beauty that dwells there. It was nice to see more of Ciaran and Kevighn. The dark court is a deeply interesting place. I loved seeing the younger royals become friends and set out on their own little adventures. Miri was a nice touch of levity to the Earth Court. I love that V realizes that Noli is strong and that she loves him beyond all else and is willing to do anything to keep him safe. V and Noli are capable of such great things when they work together. I loved this book! I hope that Suzanne Lazear will have more to come!
You can click here to find The Aether Chronicles Series on Goodreads
. Author Suzanne Lazear can be found on her
blog
,
Tumblr
and
Twitter
. You can learn more about the Aether Chronicles on the series
website
and
Facebook pages
. I give Fragile Destiny 4 Fairies being a series finale befitting a fairy tale.