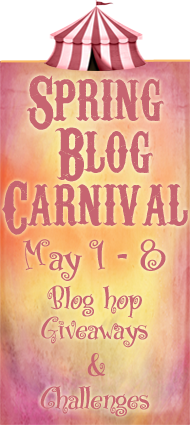 Welcome to my stop on the Spring Blog Carnival hop as part of the Carnival Extravaganza being hosted by
Candace from Candace's Book Blog
,
Reading Angel
,
the Book Swarm
and
Lori from Pure Imagination
! Thanks for hosting this shindig, girls! If you haven't hit their blogs to see what all the hoopla is about- you should!! I LOVE Candace's blog and I make sure to check it often. Pure Imagination has a BEAUTIFUL design (which Lori does herself) and she has some great giveaways and reviews. Make sure you check these ladies' blogs out!
Now, what do I have to celebrate spring for the carnival? I have one brand new copy of Dark Flame by Alyson Noel (the UK edition) and two amazingly beautiful spring themed bookmarks that I purchased just for this event from
Handmade Whimsy on Etsy
. They just scream spring to me and I <3 the butterfly and dragonfly charms on them!
So, to enter this time I am mixing things up a bit and trying a new entry system. To enter, leave your email address in the MyEmail AT gmail DOT com format to keep spammers from bugging you in a comment and that is it. One entry per Carnival Goer. I want to see if this way yields more or less entrants and whether or not being made to follow is a deterrent to entries. SO, leave your email in ONE comment per entrant and then on to the next! Feel free to follow if you want but it is not required. You're also welcome to enter my 500 Followers giveaway over on the giveaway page! The giveaway ends at 11:59 PM on May 8th! Thanks so much!!
The Carnival is over! Thanks for entering!!
Here is the Booth Schedule for the Carnival and the linky is below that!
May 1st-
Reading Angel: Haunted House
Reading Teen: Fortune Tellers Booth
May 2nd-
Candace's Book Blog: Food Court
The Mod Podge Bookshelf: House of Mirrors
May 3rd-
The Book Swarm: Roller Coaster
Actin' Up With Books: Karaoke Booth
May 4th-
Pure Imagination: Kissing Booth
Lovely Lit: Once Upon a Time Booth
May 5th-
Awesomesauce Books: Gaming Booth
Books R Us: Medieval Booth
May 6th-
Extreme Reader Book Reviews: Guessing Booth
Colloquium: Cotton Candy Booth
May 7th-
The Minding Spot: Teacups Booth
Miss Remmers Review: It's a Bad World Booth