I recently happened upon two reading challenges that peaked my interest. I want to take a post and share them with you all so that maybe you'll be interested too.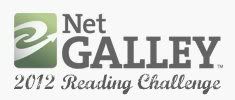 I was super excited to see that Red House Books is hosting a year long NetGalley Challenge! I've participated in RHB's challenges before and they were a great motivator to help me get through my backlog of NetGalley ARCs. For this challenge, I want to read at the Gold Star level with at least 31 ARCs. I have already read at least 10 this year and I have plenty more on my Kindle (his name's Trevor) to read. Thanks so much to Red House books for hosting this!! If you want to join in, you can join at any time. Clicking the graphic above will take you to the sign up page.
I also recently found the All Male Review Challenge and I'm trying my best to participate. The point is to read and review YA books with male main characters and/or written by male authors. I've already read two qualifying books and am working on the third, which is also the book that they are reading in their Read Along. I highly recommend that you check this challenge out while there is still time!!! It's been really great! Thanks to Bewitched Bookworms, Books & Things, In The Closet with a Bibliophile, Supernatural Snark and The Unread Reader for hosting this great event!!
After this month, I plan to really catch up my Reading Challenges page. I've been so busy that I let it slip but I need to catch up! Happy summer reading everyone!