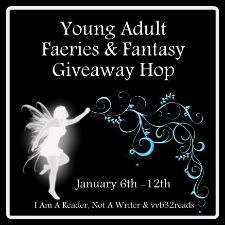 Hello and Welcome to my stop on the YA Faeries and Fantasy giveaway hop! I have a real soft spot of faeries as is evidenced by my ever growing collection of fairies all over my house and yard. I am going to be giving away one of my favorite fairy books of 2011: The Replacement by Brenna Yovanoff. I'm giving away my ARC of the book (it's already out but I got myself a hardcover so I can reread it and the arc is in great shape) and a The Replacement bookmark. I loved this book. The Replacement is about the idea of changlings in fairy lore. A changling is the frail child of fairies left in the place of a perfectly healthy human child. Usually the changling dies in the story and the family never sees their infant again. This happening was a very real fear on the British Isles in the past. People had all kinds of ways to keep it from happening. Here is the Goodreads blurb:
Mackie Doyle is not one of us. Though he lives in the small town of Gentry, he comes from a world of tunnels and black murky water, a world of living dead girls ruled by a little tattooed princess. He is a Replacement, left in the crib of a human baby sixteen years ago. Now, because of fatal allergies to iron, blood, and consecrated ground, Mackie is fighting to survive in the human world.

Mackie would give anything to live among us, to practice on his bass or spend time with his crush, Tate. But when Tate's baby sister goes missing, Mackie is drawn irrevocably into the underworld of Gentry, known as Mayhem. He must face the dark creatures of the Slag Heaps and find his rightful place, in our world, or theirs.
You can find my review
here
. This giveaway will run from January 6 at midnight EST to 12:01 January 13th. You must have a US mailing address and you must be over 13 years of age. To enter, please fill in the Rafflecopter below. If there is a problem with the Rafflecopter, please feel free to email me at the address in the upper right hand corner. Thanks so much for hopping by !!
a Rafflecopter giveaway